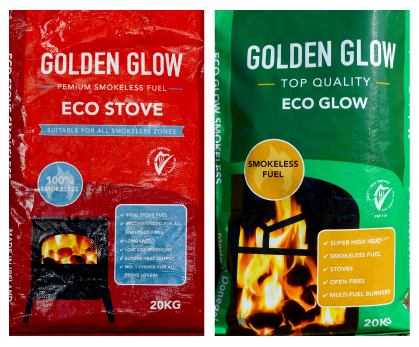 McLaughlins pre-packed fuels are renowned throughout Ireland for there superior quality and value for money, only the best quality coal or smokeless fuel ever makes it into a Mc Laughlins Golden Glow prepack fuel bag.
Each type of fuel is catered for, Ecoglow, Ecostove, Firebrite. Coal for open fires smokeless coal for openfire, stoves or ranges, anthracites and ovoids.
Each fuel is carefully selected for its quality and heat output while great pride is taken by our staff at our pre-packing plant to make sure the product you receive is of the highest quality. Our pre-packed fuels are always clean, great value for money and of the highest quality. Our products are available from the best retail outlets, coal merchants, service stations, builders providers, cash and carry's and co-operatives.
McLaughlins coal can deliver to your door throughout Donegal, with three depots of our own in Buncrana, Carndonagh and Ballyshannon and a network of authorised distributors we can get your coal delivered no matter where you live in Donegal.
We also have an extensive network of authorised distributors for our Golden Glow range of solid fuels. These top quality fuels can be provided throughout Ireland and we can organise delivery if you fill out our contact form.
Golden Glow Solid Fuels and all top quality high heat fuels sourced from around the world and pre-packed and processed at our main depot at Buncrana into Donegal.
Quality is of the utmost importance and the fuels are fully traceable from they leave the mine right up until they reach your front door.
For a cosy winter this year "Don't forget and order McLaughlins Golden Glow Coal"
Mc Laughlins Coal have been involved in the wholesale coal and solid fuel trade since the 1940s.
As one the countries leading importers and manufacturers Mc Laughlins have always lead the way in importing coal and solid fuel and bringing new fuel on to the market place, with over 20 acres of storage and a large processing and manufacturing plant in Co. Donegal "Mc Laughlins" always have a large stock of pre-packed coal and solid fuel ready for distribution.
With our own fleet of trucks any size of order can be catered for, from one pallet to full loads of eighteen pallets or even bulk loose coal and solid fuel we can handle it all in house.
All of our trucks can carry their own forklift truck if needed.
Our guarantee of quality and unbeatable price is possible because we are in control of our coal and solid fuels from they leave the mine right up to it arrives at your depot.
Call us today and arrange for our representative to call.
We would love to discuss your fuel requirements for the future and offer our own products and advice on improving your sales and profitability.
"Since 2014 Mc Laughlins have developed a manufacturing facility to produce smokeless coal and solid fuels. Designed specifically to suit the Irish market, our smokeless fuels are already the number one choice in all smokeless zones.
Our Ecoglow Smokeless Ovoids are now Irelands leading smokeless fuel, they can be burnt in open fires, stoves, ranges and all closed fireplaces.
To further compliment our range of smokeless production our in house research and development team developed Ecostove. The market leading stove fuel.
Further we developed Firebrite a stepping stone to help our traditional coal burners to move over to cleaner fuels. Firebrite is a semi-smokeless fuel, with more heat, less ash, cleaner burning than traditional coal products.
All our manufactured fuels have full Swift 7 approval."
McLaughlins coal have been importing and exporting coal since the 1950's. A reputation for quality and reliability has been built up over four generations. Our processing plant is located in Buncrana, not far from Derry port where any size of vessel can be handled all year round. The depot at Buncrana has a large storage area where a wide variety of fuels can be stored for processing and pre-packing. Two palletisers work around the clock keeping a ready supply of finished product for the domestic market. With our long established trading links and quality of service all McLaughlins customers know that no matter what the demand "we can deliver".
Our Strengths
Direct Importers, Custom build Manufacturing Plant, Excellent Transport Network, Recognised Quality Brand and Trusted Reputation. Swift 7 approval with all products.